The deep green colour of Tourmaline is believed to bring joy to those who wear it and is considered one of the most valuable colours in this gemstone family.
Green is the most common colour of tourmaline and ranges from yellowish-green to dark, rich green. Many crystals exhibit two or more colours. Crystals displaying only one colour are rare and can often be confused with other gems.
The name "Tourmaline" comes from the Sinhalese word "turamali" or "thoramalli", meaning stone with mixed colours.
Green stones are said to bring joy for life. They promote an appreciation for the many wonders that life has to offer. It encourages patience and openness, as well as a sincere interest in fellow human beings.
Scientifically, tourmalines are one of the more interesting minerals, due to their wide colour range. It is a boron silicate mineral containing colouring elements such as aluminium, iron, magnesium, sodium, lithium or potassium.
Other Tourmaline Gemstones
This tourmaline, with its deep pink colour, makes it the most popular choice for large pink gemstones and it looks gorgeous when set amongst diamonds.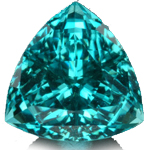 A strong and clear, radiant blue tourmaline is rare and desired by many, making it a spectacular choice of gemstone for that special piece of jewellery.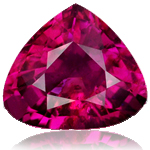 The rarity and richness in colour of rubelite sets it apart from other tourmalines. This gemstone is believed to bring courage and power to those fortunate enough to own one.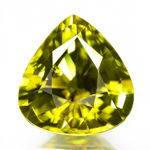 An intensely coloured yellow tourmaline is considered very rare. They are sometimes called canary tourmalines because of their brilliant colouring.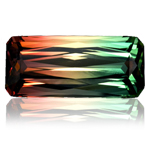 The range of colours and natural watermelon shade makes this a beautiful, unique and lively gemstone for jewellery.